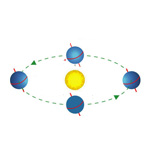 Hi all. It's been a year since I have been blogging here! In this post I want to share my blog statistics with you.
During this year (July 14, 2007 - July 20, 2008) I managed to write 58 posts, which received 808 comments. Based on statistics from Statcounter and Google Analytics, these posts received 574,874 views by 424,292 unique visitors.
Here is a Google Analytics graph showing monthly page views for this period (click for a larger version):

Here are the top 5 countries my blog readers came from:
United States (195,076 visitors)
United Kingdom (25,988 visitors)
Canda (25,335 visitors)
India (13,753 visitors)
Germany (13,670 visitors)
Not surprisingly, the top 5 referring sites were all social media and bookmarking sites:
From all the visitors 48,386 went to my site directly and 82,502 were sent here by my darling Google.
During the first year, approximately 1000 people subscribed to my blog. Here is the Feedburner subscriber graph for the year:

If you are interested in my blog, you may subscribe here:
catonmat rss feed
.
According to Technorati, my blog has received 476 blog reactions and ranks 29,521-st out of 112.8 million blogs!
Many of my posts have been submitted to Reddit, Digg and have been Stumbled. Here are the top 5 most visited posts:
Some of my how-to posts came with downloadable cheat sheets. Here are the top 5 cheat sheets:
During the last year I also created four web projects. All of them are open source. Here they are:
In March 2008 I started posting geek music on Fridays. Here are the top 5 geek songs:
I am satisfied with where this blog is heading. I'd like to thank all my fans and all the visitors who regularly return to the site!
To make things more challenging, I am setting myself a goal of reaching 5000 subscribers by the end of the next year of blogging (July 2009)! I know that this is very ambitious goal but I am ready to take the challenge!