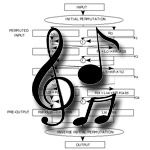 I was going through my mp3 collection and noticed that I had a bunch of really geeky songs. Then I thought, why not add a bit more fun to my blog? These songs are really nerdy and my readers should love them.
I'll be posting one song each Friday until I run out of songs. I have 6 songs at the moment, and I'll try to find some more. I'll also add lyrics and some comments for people who don't have enough nerdiness to understand it them.
The first song is called Crypto and as the title suggests, it's about cryptography. It's actually parody of the Banana Boat Song by Harry Belafonte.
In this song, a cracker is trying to defeat 56 bit and 128 bit symmetric key algorithms, such as DES or RC4 that are used in secure online communications. The 56 bit symmetric keys are no longer recommended as they can be quickly broken with special hardware and modern computers.
Unfortunately, I couldn't find the author of this parody song. In case you know the author, please let me know so that I can give proper attribution.
Here is the lyrics:
Crypto It's in Crypto Crypto come and the crook go home Safe? Is it safe? It's all safe Pretty safe It's okay It's okay-o Cracker come but he won't break code World get small when the internet come Online come and we shop from home Download the software 'till the morning's done Daylight come and me hard drive full Punch in my credit card order me a dancer Dancer come and me g-string go Come Mr. Businessman join in the bonanza Shopper come and the overhead's low 56 bit key is a great big bunch Crypto come and the crook go home 128 bit even harder to crunch Cracker try but he just grow old Crypto, It's in Crypto Crypto come and the cash can flow Safe? Is it safe? It's all safe Pretty safe It's okay It's okay-o Crypto come and the crook get boned
Download Crypt-o Song
Have fun and until next geeky Friday!