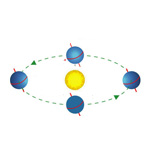 Holy smokes! It has now been two years since I started this blog. It seems almost like yesterday when I posted the "A Year of Blogging" article. And now it's two! With this post I'd like to celebrate the 2nd birthday and share various interesting statistics that I managed to gather.
During this year (July 20, 2008 - July 26, 2009) I wrote 55 posts, which received around 1000 comments. According to StatCounter and Google Analytics my blog was visited by 1,050,000 unique people who viewed 1,700,000 pages. Wow, 1 million visitors!
Here is a Google Analytics graph of monthly page views for the last year (click for a larger version):

In the last three months I did not manage to write much and you can see how that reflected on the page views. A good lesson to be learned is to be persistent and keep writing articles consistently.
Here is the same graph with two years of data, showing a complete picture of my blog's growth:

I like this seemingly linear growth. I hope it continues the same way the next year.
Here are the top 5 referring sites that my visitors came from:
And here are the top 5 referring blogs:
I found that just a handful of blogs had linked to me during this year. The main reason, I suspect, is that I do not link out much myself... It's something to improve upon.
If you remember, I ended the last year's post with the following words (I had only 1000 subscribers at that time):
I am setting myself a goal of reaching 5000 subscribers by the end of the next year of blogging (July 2009). I know that this is very ambitious goal but I am ready to take the challenge.
I can proudly say that I reached my ambitious goal. My blog now has almost 7000 subscribers. If you have not yet subscribed, click here to do it.
Here is the RSS subscriber graph for the whole two years: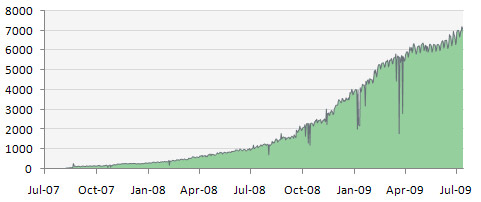 Several months ago I approximated the subscriber data with an exponent function and it produced a good fit. Probably if I had continued writing articles at the same pace I did three months ago, I'd have over 10,000 subscribers now.
Anyway, let's now turn to the top 10 most viewed posts:
The article that I liked the most myself but which didn't make it to top ten was the "Set Operations in Unix Shell". I just love this Unix stuff I did there.
I am also very proud for the following three article series that I wrote:
Finally, here is a list of ideas that I have thought for the third year of blogging:
I'll document everything here as I go, If you are interested in these topics stay with me by subscribing to my rss feed.
To make things more challenging again, I am setting a new goal for the next year of blogging. The goal is to reach 20,000 subscribers by July 2010.
But now it's time for this delicious cake.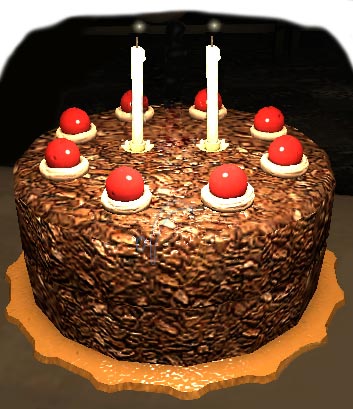 Enjoy the cake and I hope to see you all on my blog again!