Exciting news! Earlier this year I joined a company called June as an advisor and we just launched! At June we're reinventing hiring. Job candidates get paid to hear job offers from the best recruiters in the world.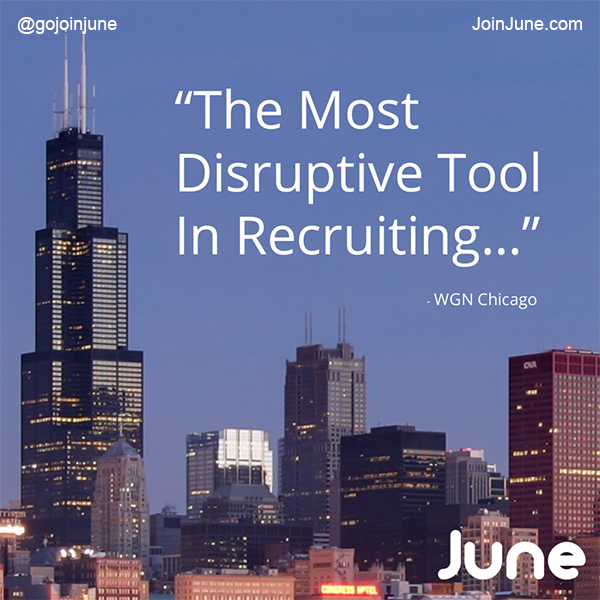 I know what's on your mind right now. You're probably thinking, why would a recruiter pay to speak with me?
That's a good question. Unfortunately, the recruiting industry's reputation has been tarnished over the years by unqualified individuals mass messaging talented IT professionals. This has pushed candidates away, fearful of these bad apples. We know better, there are great recruiters out there who work for dream companies. They are on June and they value your time. To prove this, they are willing to pay to speak with you.
June's solving a real problem in the recruiting industry and it's been already called the most disruptive tool in recruiting by WGN Chicago! Our launch partners are Amazon, Google, Microsoft, Rackspace, Hubspot, PayPal and several other huge tech companies. Sounds interesting? Go to June and sign up right now!
June was started by Lane Campbell. I've been good friends with Lane for many years. We met through one of my projects Digpicz that I did in 2007. Since then we've kept in touch and Lane's been sponsoring my open source work as well as helping at Browserling.
Here's an interview with Lane Campbell at WGN podcast Tomorrow's Business Today. He talks about his background and how he got an idea to start June.
Lane Campbell at WGN
Lane also recently did a Reddit IAMA where he was asked many tough questions about June, its business model, competitors and other topics.
As an advisor to June I provide advice on engineering, devops, security, marketing and even content publishing. I also help with interviewing and hiring new employees.
I'm very proud of June's team. I'm working with some of the smartest, most intelligent and motivated people. Check out June's about page to see everyone who's currently working at June.
It's been an exciting ride and I can't wait to see where we go next!
Sign up at June!
If you're interested, sign up at June! If you've any questions, check out June's FAQ. For any other questions feel free to reach out to me, peter@catonmat.net, or to Lane Campbell, lane@joinjune.com.
Onward and Upward!
I'll be sharing all exciting things happening at June on my blog, so make sure to subscribe to my blog, follow me on Twitter and follow June on Twitter.
Until next time!